This weeks questions for
Sunday Social
are Fall-ish so it got me thinking about Fall. At first, I was all.. "why am I thinking about Fall - enjoy your summer now! While I am enjoying summer, this is probably the first year in a while that I will not be totally bummed to say adios to it.While I love the summer weather, having all my friends around and being busy with work, I am excited for the fall. Why, you ask? Well.. that's for another time but I promise it's exciting. Yes, I am leaving you hanging. ;) Onto the questions!
1.
What is your favorite fall activity?
Clearly Fall shopping! I plan to do a big ole shopping spree in October, hopefully will need some smaller sized clothes aha. I have been saying that for months but we shall see. The scale has been moving down the last two weeks so you never know! ;)
2.
Do you follow a football team?
If so, which one and why? Not really. Last season I tried to get into it more just simply because I didn't understand it and I was bored and thought maybe I should broaden my horizons. I didn't even know Canada had a football league until like a year ago, that's how interested I am in football aha. I would love to go to an actual game some day though and follow a team - I really like watching sports and cheering and being competitive.
3.
What is something fun about fall in your area?
Honestly, I don't even know. Fall begins when? The end of September? I feel like everything completes dies for Fall. In December the island gets a bit more exciting for a month because its Christmas and every place on earth is exciting at Christmas but fall here is bullshit. I can't think of one thing. Grand Mananers - help me think of something!!
4.
Favorite fall outfit staples?
This fall I hope to get a cute pair of boots that aren't too wintery and I love me some cardigans and light sweaters! I also love jackets and I'm hoping to have some money tucked away for some cute fall stuff!
5.
Things you are looking forward to in this coming fall season?
Getting out of here! Mucho excitement heading my way - check back for details :D
6.
Favorite fall holiday? Traditions?
I'd say Halloween. I think its fun and I love dressing up and seeing everyone else's way better ideas for costumes aha. Thanksgiving is always a bust for me, I've spent the last like 5 alone and my family always ditches me lol. Turkey is some kinda good though and my girl Cassie has hooked me up more than once on Thanksgiving! I still dream about the pumpkin pie she bought me last thanksgiving!
And I totally just remembered that I still have to finish my July Blogging Challenge. So I will do that but before I do I really want to urge you to visit
Peanut Butter and Jenny
. Her blog is amazing and she is always making me think and tear up and laugh.. it's just an all around great blog! Last question for the blogging challenge (cant believe its over and its august holy fuck!)
July 30 Explain your morning routine. Well, I usually work at 7am. I am a lazy fuck and since I work until 10 or 11 some nights, I pretty much sleep right until 6:45, I get up, put on my clothes, wash my face, brush my teeth and go to work. I serve breakfast for about 3 hours, come home, and nap again. It's totally abnormal lol
So that's that. July Blog Challenge complete! Lately I have been feeling good about writing and having all kinds of ideas in my head and really writing more from my heart. I am really happy with my
last few posts
and have been getting some amazing feed back from you guys! This makes me super happy! I'm also moving right up there in followers which is exciting (and means we are getting closer to having a giveaway at 200 followers yeehaww).
So I'm glad the July Challenge is over in a way because I want to focus more on writing real posts and less on link ups. I love doing the Sunday Social because I get introduced to so many other blogs, so I will continue to do that when I see fit. I'm also going to do a health link up at
All In My Twenties
so that I can be encouraged and motivated by other bloggers who are looking to lose weight or get healthy. I also need my mind to be more health oriented and the blogs I write in general about my weight loss journey will be the blogs that I use for Inspire Me: Healthy, just me doing my own thing, not answering questions. I think if I know my readers at all you appreciate this more than other link ups. (read my first post for that link up
HERE
.)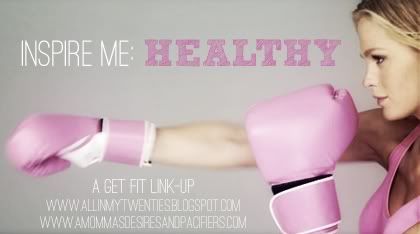 Anywho, it is time for Big Brother, my one true love, so I shall jet! I hope everyone had a fabulous New Brunswick Day Weekend - I totally did :) May be able to share some photos with ya'll at some point. Have a happy Monday tomorrow!
Big Love,
Bailey