I'm ready to lose it - my black friday virginity that is. By being here in California not only do I get to have two Thanksgivings and 2 hristmases (because I clearly need to have one here w/ The Moo before I leave) but I get the chance to experience the REAL Black Friday. I realize this "Holiday" is recognized in some places in Canada but let's face it - the real shit goes down here in America because they are far more villainous than and selfish than us. Just kidding. Sort of. No but seriously Canadians are bad people too.
Before I offend Americans so harshly they exit out.. I have a few questions. Is Black Friday worth it? The biggest thing I'm in the market for is a Laptop so I want to know where I should go for Black Friday in general and where the best place to go to get a deal on a laptop would be. Is there future shop here? Is there a specific place that you know will have a good deal on? I've had advice to look on Amazon on Black Friday and stay away from the stores but honestly.. that just doesn't sound like much fun.
Where have you found the best deals and the least amount of crazy women? I don't mind a crowd but I don't want anyone punching me in the face or anything. I'm hopefully going to be taking Mark with me as a body guard but he will tire of my Black Friday sale finding antics VERY quickly so I must be vigilant.
I basically need any tips and advice you can give me for my first Black Friday! I will need to do research to find if Sacramento (or West Sac) has the store and where to go and which bus to take (still don't know the bus schedules off by heart like Mark seems to think I should) so knowing me, my intelligence levels and my possibly undiagnosed ADD - it could take a few days to get a sick plan set up.
So help me out lovely American friends! I will not let you down!! Also - I'm getting sort of excited for my first American Thanksgiving IN America next week. That's right - I've celebrated American Thanksgiving before. It was in Guatemala and it was delicious. PUMPKIN PIE ROUND 2!!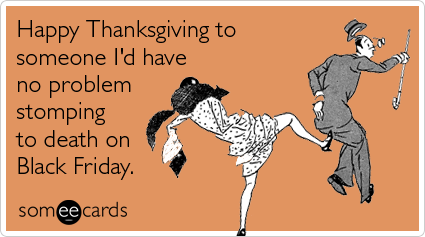 Big Love,
Bailey J
Ps. I bought something VERY exciting today. Stay tuned...